R&A Sutras Self Guided Program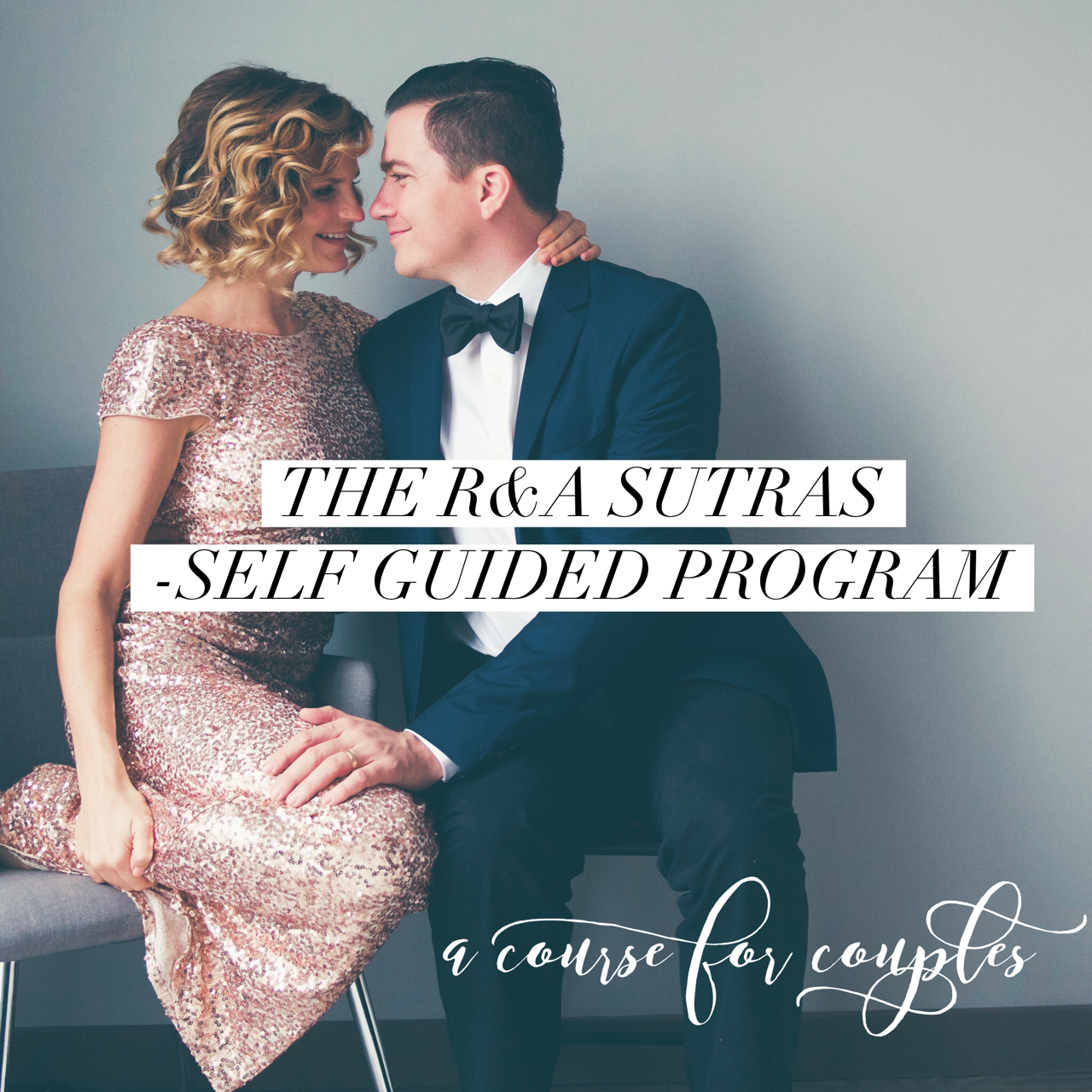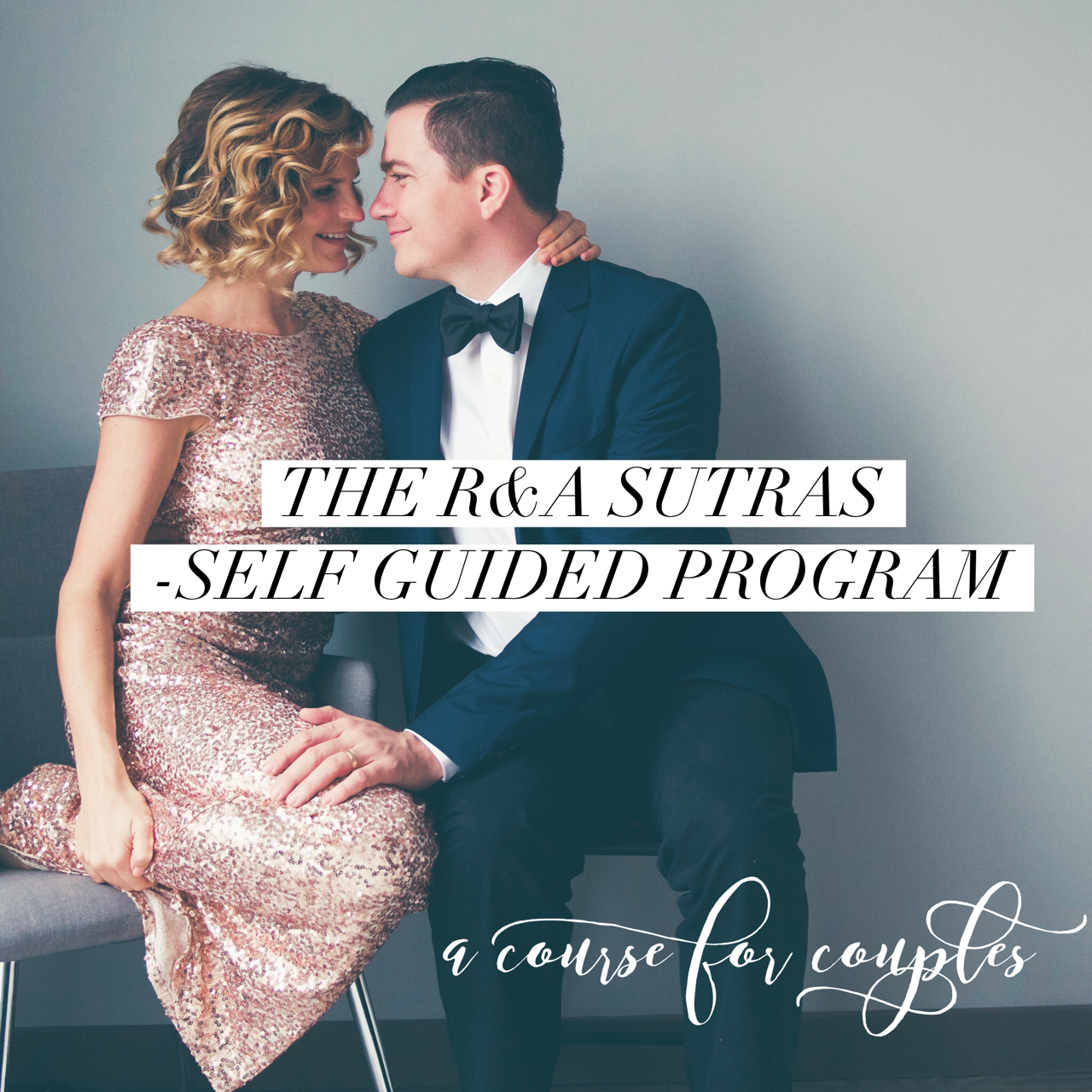 R&A Sutras Self Guided Program
Say goodbye to Bedroom Hell!
The Romance & Adventure Sutras will show you the way out of fear, guilt and shame in your relationship with sex and into deep connection, intimacy, fun and joy.
Mastering the arts of romance and adventure in the bedroom isn't just about better orgasms (though it will give you that!) It's about becoming free in every area of life, feeling better than you ever imagine in your own skin, and finally doing those things you always say you'll one day do. It's about discovering that secret garden of hidden beauty, joy, contentment and confidence within you. It's about knowing that no matter what your personal and shared pasts look like, anything is possible in your future together.
What You'll Learn:
Module 1: The Art of Paying Attention ( & Foreplay)
Understand the inherent error of normal foreplay and a better solution for getting in the mood.
Learn how to make all day foreplay with the 5 senses.
Rediscover everything you need to know about the "Big P" (It's not what you think).
Manage anxiety around differing desire levels.
Create healthy boundaries with your digital devices and develop new rituals for slowing down.
Practice the lost arts of pursuit and seduction.
Understand the practical matters of female sensuality.
Learn proven brain strategies to make it easier to "just be here" with one another
Module 2: The Art of Being Known (+ Turn Ons)
Unlock the sexiness of remembering who you are and forgetting everything you think you know about your partner.
Let go of what once was to make room for a bright new future.
Decipher the most powerful language of apology and forgiveness for you and your partner.
Reconnect with your own heart so that you can share more meaningfully with your lover.
Release buried fear, guilt and shame to find new freedom.
Module 3: The Art of Coming Home ( & Intimate Touch)
Discover the secret to having enough energy for sex.
Learn how to transition from work to home, from thinking/performing/doing mode to feeling/connecting/abiding mode.
Cultivate your own nourishing practices of self-care to feel lovely, desirable and sexy.
Create a sanctuary of rest in the bedroom that renews the soul.
Define your own relaxation routine that gets you in the mood your way.
Have fun bonding in playful ways with the somatic play video series.
Module 4: The Art of Fighting the Good Fight ( + Shagging)
Learn the practice of Courageous Presence
Bring darkness to light without feeling ashamed.
Embrace the powers of vulnerability like never before to overcome resistance in your emotional, personal, professional, and financial lives.
Help your partner come alive and experience a new passion for life.
Practice the fine art of shagging (and have crazy fun).
Module 5: The Art of Daring & Dreaming (+ Oral Sex)
Be brave and spice things up not only in bed, but in how you do all of life together.
Communicate your wants, wishes, hopes and dreams.
Learn how to dream again even if you've been devastated by disappointment in the past.
Architect your own romantic rendezvous full of the 3 elements of passion.
Module 6: The Art of Ultimate Fulfillment (+ Orgasms)
Powerfully embody being a woman and surrender fully to allow him to be all he can be as a man.
Adopt the key insights from the Kama Sutra to serve your relationship.
Transcend limiting beliefs to experience a whole new level of freedom.
Unlock the joy of receiving.
Discover the simple and profound practices of Tantra.
Cultivate resilient hope that sets your future up for unstoppable happiness, passion and transcendent success.
What's Included in the Self Guided Program
6 MODULES OF ONLINE CONTENT VIA AUDIO, VIDEO & PDF WORKBOOKS
The Romance & Adventure Sutras takes a holistic approach to sexual well-being, weaving in pragmatic and poetic teachings for the body, mind, heart and soul. You'll be guided via audio lessons, video exercises and downloadable and printable PDF workbooks for journal prompts and personal processing.
Every module you'll receive 3-4 audio lessons, and a PDF workbook of key points and journal prompts, plus pillow talk conversation starters and sexy exercises to try alone and together.
MALE & FEMALE PERSPECTIVES ON EVERY TOPIC
A female and male perspective on every topic is one of the things that make The Romance & Adventure Sutras so unique. Ronnie and Morgan share openly and candidly. Their lighthearted, playful, compassionate dynamic is an education in relationships in and of itself.
Both you and your partner will feel understood and appreciated for your unique experiences as a man and a woman. No one needs to be blamed, or be made the scapegoat. Each person can feel validated, loved and known.
PLAY ANYTIME AUDIO RECORDINGS
We know how busy life can be. With the play-anytime audio recordings you can be listening and learning on your commute to work, as you do laundry, or at the gym. When you return home from your day you will be filled with conversation starters, new ideas and exercises to try with yourself and your partner.
Every module offers 1-3 hours of lecture. You can go at your own pace and revisit a recording anytime you like. You can download all audios to your computer, your phone, or any other mp3 device to make it convenient for yourself to keep engaging with the material whenever you like.
VIDEO TRAININGS ON HOW TO BE PLAYFUL AND CONNECT PHYSICALLY IN HEALING WAYS
One of the best ways to regain trust and intimacy in the bedroom is to start by regaining trust and intimacy in non-sexual touch. Learning how to be playful and how to connect physically without any pressure or obligation is a powerful agent of healing and stress relief. This is one of the most fun parts of the R&A Sutras. Get ready to laugh and bond like you never have before.
What Other's Are Saying
"Run - don't walk - to sign up for this exceptional program! Ron and Morgan have created a course that's the perfect combination of fun, knowledge and the how-to to bring excitement and connection back to marriage and the bedroom. If you're looking for ways to connect with your partner on a deep soul-level, release any guilt, shame and fear you've been lugging around - this course has your name written all over it. Ron & Morgan take the taboo out of sexuality, share about their own experiences with honestly and rawness, bring humor into "touchy" subjects and provide support and insight to help guide you through often-sensitive subjects. This course and the Cecil's are amazing! -Jenipher M
"If you want to transform your relationship & seriously up-level your intimate connection, join R&A Sutras. My husband & I learned so much about each other that we probably would've never taken into consideration without Ron & Morgan's gentle & loving guidance. Even though we already had a great marriage & sex life, R&A Sutras allowed us to heal old hurts, know each other more deeply, & get even closer." -Laken N
"Our life had become very routine and it was hard to see the Romance and Adventure that was hiding beneath the surface of long work hours, days filled with diaper changes, and the less fabulous things of life. Ron and Morgan gave us the tools to take our communication to a deeper level and bring new life to the stale areas that had become our 'normal.' We still pull out our R&A guides because of the immense wisdom they contain. Because of what we learned we are able to find our own Romance and Adventure in our life together now." -Valerie K